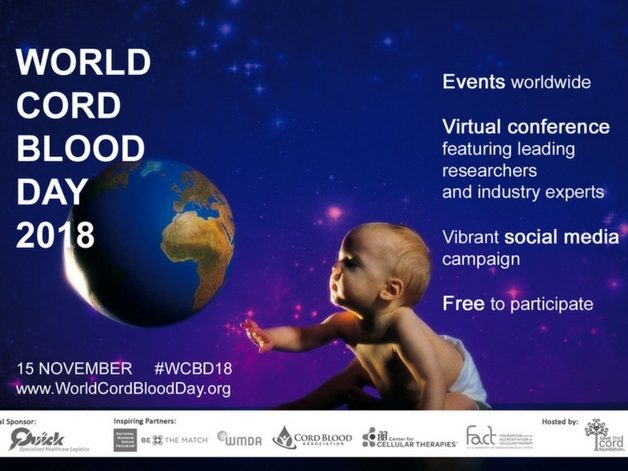 Thursday 15th November is World Cord Blood Day which highlights the importance of cord blood and its benefits to treat over 80 different diseases, such as leukaemia, lymphoma and sickle cell anaemia. 
We are organising a number of initiatives throughout the day. If you would like to take part and join us, read on to see how. 
Share your stories
On World Cord Blood Day, we will be sharing stories from people who have received cord blood transplants on the hour throughout the day to raise awareness of the benefits. 
Do you have a story to share? Follow us on Twitter @LMRUK_org and tweet us your story, or help us to spread the word! 
#WCBDchat 
We're hosting our first ever Twitter chat from 7pm – 8pm using the hashtag #WCBDchat on World Cord Blood Day. 
Join our discussion to chat about cord blood banking, the uses of stem cells, and how they can be used to help treat diseases and conditions. We'd love to hear from you! 
Follow us on Twitter @LMRUK_org and tweet us using the hashtag #WCBDchat to share your thoughts on cord blood banking and stem cell therapies. 
Get the Facebook frame 
If you or a loved one has been affected by cancer of the blood, show your support by adding our Facebook frame to your profile photo. 
We're creating a dedicated frame which people can add to their profile photo – keep your eyes peeled on our Facebook page to find out how you can get the frame and encourage your friends and family to join in! 
For more information on World Cord Blood Day visit their website here: www.worldcordbloodday.org or contact a member of the Leukaemia & Myeloma Research UK team on 0800 368 7309. 
Join us in supporting World Cord Blood Day on 15th November!