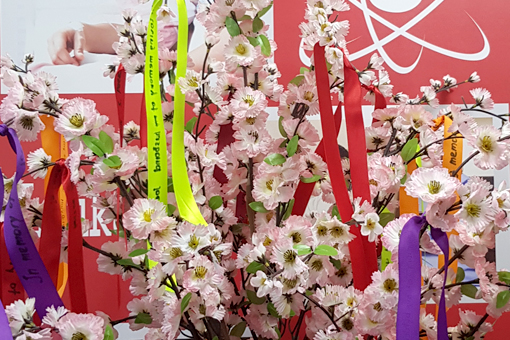 Ribbons in Memory - an invite to our special event
On the last Sunday of every March we will continue holding a remembrance event at our Ribbon Tree location
On the 29th of March 2020 our charity will be holding it's annual Ribbons In Memory event that is taking place in Chester Memorial Forest, Countess of Chester Country Park.
Last year an English Oak Tree was planted, and a memorial plaque was fitted reading "In loving memory of people lost to blood cancer. For every Fight won, for each Battle lost, for hope to those still Fighting" – which was recorded in the Book of Remembrance, Registration No. 13111. We are very grateful to those who supported us in this event and made a donation.
We will continue holding a remembrance event at our tree location on the last Sunday every March, but you can make a donation and choose the coloured ribbon in memory of your loved one at any time.* The ribbon will have an inscription to the loved one named by you.
Any donation will be an invaluable contribution in the battle with blood cancer.
Thank you for any support.
Please start by selecting the ribbon of your choice below:
| | | | | |
| --- | --- | --- | --- | --- |
| Leukaemia | Hodgkin's lymphoma | Non-Hodgkin's lymphoma | Multiple myeloma | Blood cancer |
I would like to donate the amount of...
or enter a custom amount...
*To protect our English Oak Tree, your ribbon will be symbolically tied to a branch of the tree in our office before the event in March.