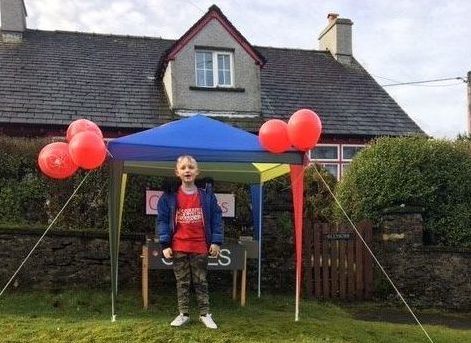 When seven-year-old Jacob Haygarth and his family lost a close family member to leukaemia last year, his family rallied round and set up a cake stall at the end of their drive to raise money for Leukaemia & Myeloma Research UK, which has risen in popularity with local people in the village of Tebay. 
Here is Jacob and his mum Kass' fundraising story: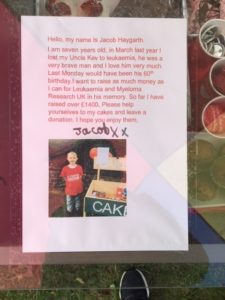 "Last year, we wanted to do something to raise money for charity after Kevin, Jacob's uncle and my husband Trev's brother, passed away from leukaemia. We wanted to do an activity together as a family, so we decided to hold a bake sale at the end of our drive.
"Trev made a cake stand and Jacob and myself grabbed the whisks and got busy in the kitchen baking an assortment of traybakes and cupcakes to sell. When we first started it was very much a case of trial and error, but we've certainly improved over time. My 11 year-old son Josh is fantastic with helping to organise the bake sales, decorating and preparing the stall and counting all the change – it's a great team effort.
"People in our village of Tebay in Cumbria have been overwhelmingly supportive. It started as Jacob and myself doing the baking and decorating, but once people heard about what we were doing, we had so many generous cake donations to go on our stand. People who also knew Kevin were keen to show their support, so its been brilliant bringing everyone together and doing something fun in his memory. 
"The bake sale really took off. Last year we were out selling cakes every Sunday for six weeks. We raised over £1,200 for Leukaemia & Myeloma Research UK. A local café held a book sale and donated all the money raised to our fundraising, bringing our total to £1,400, which was amazing!
"Our latest bake sale was on Sunday 23rd February as it would have been Kevin's 60th birthday on Monday, so we wanted to do something to celebrate in his memory. We had a delicious assortment of cakes, flapjacks, fudge, meringues and our traybakes, and as Jacob says "the messier the better, so people get mucky chops!"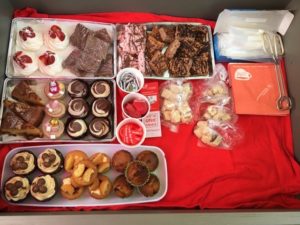 "We raised over £270 on the day and faced all weather conditions, but it was fantastic to see so many friendly faces come and support us and enjoy some delicious cakes. 
"Kevin was diagnosed with leukaemia four years ago. During the first two years he responded well to the chemotherapy, but his final two years took a turn for the worse. He passed away in March 2019 from sepsis while waiting for a stem cell transplant from his brother, Trev. 
"We came across Leukaemia & Myeloma Research UK when looking for a charity to support, and as the charity specialises in the stem cell transplants, it seemed like a good fit for us. 
"After reading the other fundraising stories on the website from people who have lost a loved one from blood cancer, it felt really relatable as we had all been through similar experiences.  
"The charity has been great with sending us promotional items to use and sell alongside our cakes. We decorated our cake stand with balloons and bands, and Jacob has been proudly wearing his branded t-shirt. We've also placed information leaflets on the stall about stem cell treatments. We want to raise as much awareness as possible about the treatments to help cure blood cancer. 
"We're hoping to hold our next bake sale this summer, so Jacob and myself will be back in the kitchen whisking up some tasty treats for charity."
A BIG thank you to Jacob and his wonderful family for all their fantastic fundraising for our charity and we look forward to hearing how the summer bake sale goes! 
If you'd like to get involved and set up a fundraising challenge, contact a member of our team on cs@leukaemiamyelomaresearchuk.org, or visit our website: https://lmruk.org/fundraising/.