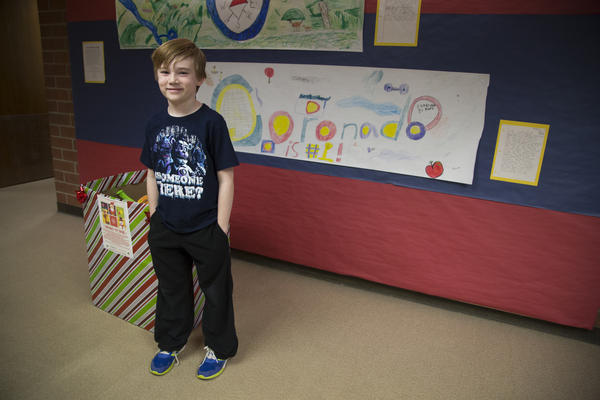 Adrian Godeaux remembers receiving a stuffed snake, his favorite of all the gifts given to him while he was a patient at the Center for Cancer and Blood Disorders at Children's Hospital Colorado. And now that the 8-year-old Coronado Elementary student is healthy, he has decided to pay it forward and collect toys for other children who will spend the holidays in the hospital.
"It inspired me and my friend Leo," Adrian said. "We both got a lot of toys in the hospital, and I thought other kids deserved to get other toys."
In September 2015, Adrian's mother, Cassidy, took him to the doctor for an unrelated reason. Doctors took an X-ray of his foot, initially thinking Adrian might have bone cancer or leukaemia. But Adrian, then 6, didn't have either and was soon diagnosed with aplastic anemia, a rare condition in which the bone marrow fails and the body stops producing enough new blood cells.
When immunosuppression therapy didn't work, doctors at the Center for Cancer and Blood Disorders at Children's Hospital in Aurora put Adrian on the transplant list. He had several matches, though doctors ultimately opted to go with a mismatched umbilical cord transplant. In this procedure, umbilical cord blood is used as source of stem cell transplantation.
In the six-month period from diagnosis to transplant, he spent about 181 days in the hospital and received regular plasma and red blood transfusions. After the transplant, he was homebound for another six months. Save for regular hospital check-ups, he remained isolated for the entire time to prevent infection. And now, Adrian's preparing to celebrate his second Christmas post-transplant.
Several weeks ago, Adrian, Cassidy and his 10-year-old sister, Jasmine, began brainstorming ways they could give back to the community around the holidays. Almost immediately, Adrian knew he wanted to host a toy drive and donate the toys to the kids currently in the Center for Cancer and Blood Disorders who — much like Adrian did — will spend the holidays in the hospital.
"Adrian's desire to give back to an organization that cared for him during a very difficult time in his life is very inspirational," said Coronado principal Amanda Pierorazio.
To read the full article click here.