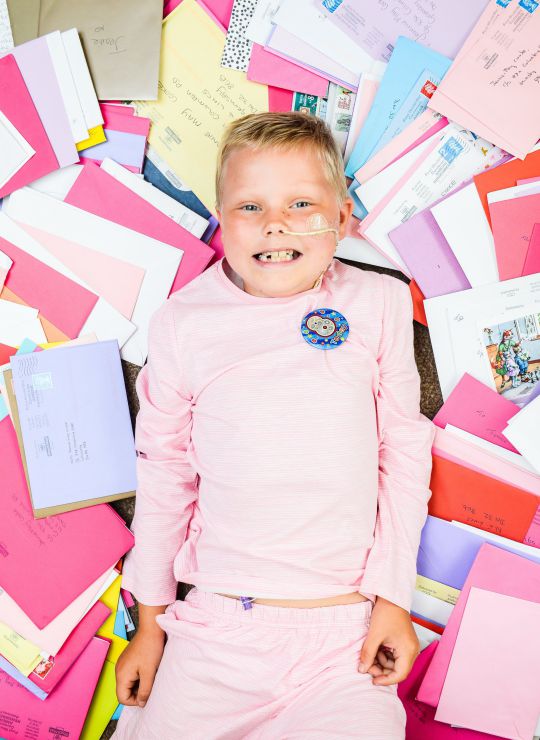 A little girl who tragically lost her leg a few weeks ago due to leukaemia has received 2,000 birthday cards from strangers across the globe on her eight birthday.  
Jeanie-May, who turned eight on Monday, has been battling the cancer for the past year and had one special request for her birthday – that people send her as many cards as possible. Since making an appeal just three weeks ago, her message captured the hearts of thousands from all over the world, with cards being sent to the brave young girl from as fair away as Texas and South-East Asia.
The birthday girl was up bright and early yesterday, gazing out out of her front window awaiting the arrival of the postman, eager to see just how many cards she had been sent.
When Royal Mail delivery man Tony Coutts arrived, it took him eight trips back and forth from his van to deliver all the cards. Surrounded by the thousands of cards that had been sent to her, the birthday girl thought that it would take her a few days to open them all and was very excited to see who has sent her a card, as a number of famous faces, such as former England captain John Terry, had shared her appeal. 
Along with the cards Jeanie-May also got a whole host of presents, with a personalised electric guitar and a trampoline.
She has been making such good progress following her life-changing operation that she is now bouncing around on trampolines and can even do a front flip. The eight-year-old gave thanks to everyone who had sent her a card and said: 'I can't believe that I have been sent so many cards this morning, it is amazing. I think I am going to be opening these for days! Thank you to everyone that has sent me a card.' Her mother Katie Hannaford said: 'I really can't believe how many people have wanted to send a card to Jeanie-May, it just shows you how many nice people there are out there, it has really made her day. 'For the past week she has been doing so well, going for a little trip to Thorpe Park and even going on the trampolines and doing front flips. She had so much fun on them that we got her a trampoline of her own.'
Jeanie-May's uncle Liam Quickfall had organised the birthday card appeal for Jeanie-May, having the cards sent to his business and the Grimsby Live office, so that they could all be delivered to her house on her birthday morning.
Jeanie-May has been battling leukaemia for the past 11 months and lost her right leg due to complications with the disease.
To read the full story click here.