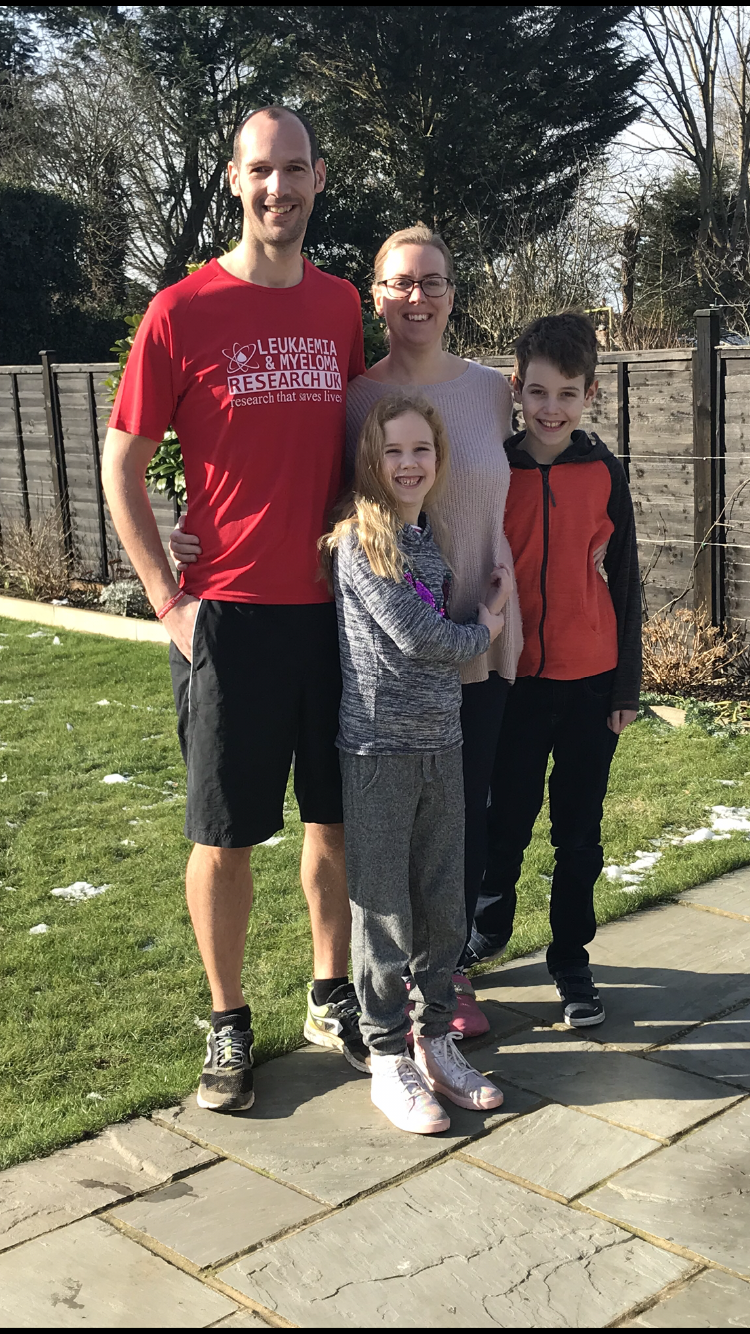 Damian Basey, 38, from Hertfordshire is running his first Half Marathon this June to raise money for Leukaemia & Myeloma Research UK (LMRUK) after a close family member was diagnosed with myeloma. 
Damian's cousin Lorna, a healthy mother of two young boys, was diagnosed with monoclonal gammopathy of undetermined significance (MGUS) in 2011, a non-cancerous condition, which in 2018, shortly after her 40th birthday, developed into Multiple Myeloma.
"Lorna has remarkable courage and the way she's dealt with everything is incredibly inspiring – we're all so proud of her. Since her diagnosis, Lorna has undergone chemotherapy and a stem cell transplant and is now in remission doing well. 
"Our whole family is keen to raise money and awareness of Myeloma by supporting research into finding an effective treatment to beat blood cancer once and for all. So now it's my turn to take on a challenge and raise vital funds for charity", said Damian. 
On 6th June 2021, Damian is taking on the Hertfordshire Half Marathon, a 13.1-mile race starting and finishing at Knebworth House, a grade II listed house surrounded by beautiful parkland. The route takes runners through the grounds of Knebworth Park before heading out to the surrounding country lanes. 
"I work as an Area Manager in retail, so during most of the lockdown I've been on furlough, which has given me lots of time to improve my fitness levels. I started slowly, but now I'm loving running. I wanted to keep pushing myself and have something to work towards, so I looked at running events nearby which I could take part in and that's when I found the Herts Half Marathon. I spoke with the event organisers about raising money for a charity supporting myeloma research, and that's when they put me in touch with LMRUK. 
"The charity is a perfect fit for me with their focus on finding effective treatments to fight leukaemia and myeloma, so I registered to run representing the charity and raising money for them. 
"I haven't set a huge fundraising target as I appreciate times are tricky for a lot of people at the moment, so I initially set out to raise £250, which I'm really pleased to say has now been hit, so I'm hoping to get to the £400 mark before June! 
"My family have been incredibly supportive. My wife Lizzie has done a few training runs with me and I'm hoping to persuade my two children; Jacob, 10, and Alice, 7, to get their running shoes on when the weather starts to brighten. Who knows, maybe next year they'll be wanting to join me in some races! 
"Training has been going well, much better than what I'd originally thought – I'm aiming to go for a seven to ten mile run twice a week making sure I do different routes, particularly getting used to running up hills. 
"Although this is my first Half Marathon, on New Year's Day I went for a run, and accidentally ran the same distance as a Half Marathon, so that's filled me with confidence.
"Knowing that my family, and depending on restrictions, Lorna and her family, will be there on the day to cheer me on with support from the albeit smaller crowd will really spur me on to reach the finishing line – preferably with a big smile on my face!
"I'm holding out hope that there will be a cure for myeloma within our lifetimes, and the money I raise will go towards finding a cure for Lorna and other myeloma patients", added Damian.
If you'd like to support Damian, you can visit his fundraising page here: www.justgiving.com/fundraising/damian-basey. 
Lorna has been running an open and honest blog detailing her experience of myeloma, from her diagnosis to the treatment she has undergone to support others going through the same experience. If you'd like to read about Lorna's journey, head over to her blog here: https://mypositiveliving.com/. 
Are you looking to take on a new challenge? Contact a member of our team on cs@leukaemiamyelomaresearchuk.org to find out more information on the different ways you can raise money for a great cause, or visit our website: https://lmruk.org/fundraising/.