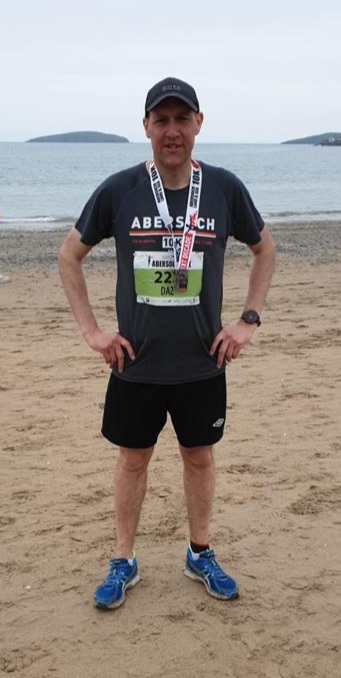 With two half marathons under his belt, Daz Martin from Whittington in Shropshire has decided to lace up his running shoes once again and take on his biggest challenge yet.
This July, Daz will be running the epic Xterra Snowdonia Trail Marathon to raise money for Leukaemia & Myeloma Research UK (LMRUK) after his mum, Sue, passed away from Acute Myeloid Leukaemia (AML).
After initially going into hospital from suffering with months of getting water infections in April 2021, doctors diagnosed Sue with AML and she was immediately given medication. At first, she responded well but unfortunately, she was fighting infection after infection and the doctors decided to stop the treatment. Soon after, she was moved into a hospice for palliative care.
Three weeks after her diagnosis and just two days before her 69th birthday, Sue passed away leaving behind her husband, John, two sons Daz and Kev, and six grandchildren.
"Before my mum's diagnosis, I wasn't aware of Acute Myeloid Leukaemia and as a family we were all learning and reading up as much as possible together.
"Leukaemia was a form of blood cancer I was familiar with as back in secondary school my best friend, Paul Dart, was diagnosed with it and passed away at the young age of 17, which was devastating", said Daz.
To raise awareness of the different forms of blood cancer and gather vital funds for charity, Daz will be ascending almost 1,700 metres over 27 miles while navigating himself across Wales' highest peak – Snowdon, as part of the Xterra Trail Marathon on 10th July 2022.
"The event takes place over one day and starts and finishes in Llanberis village at the foot of Snowdon. The route will take us through all different terrains as we reach the summit to take in the spectacular views – fingers crossed for a clear day! – and then we'll descend towards the finish line to meet our family and friends", explained Daz.
As well as packing specialist terrain shoes, emergency supplies for the different altitudes, and walking sticks, Daz will be picking out his favourite podcasts and playlists to see him through the challenge.
Over 2,000 runners will be taking part and all hoping to raise money for worthy causes. Daz is aiming to raise over £300 for LMRUK, he explained: "I wanted to fundraise for a charity that was related to my mum's illness to help raise awareness of the signs and symptoms of blood cancer, as well as help fund the work being done on finding more effective treatments for patients".
Having previously taken on the Three Peaks Challenge over 24 hours with friends, and with his cousin a former GB triathlete who now organises extreme sports events, Daz is no stranger to the gruelling hours of training. "This will be the longest and toughest distance I've run in one go, but having already completed the Three Peaks Challenge, half marathons and regularly running 5-10k, and with the amazing support from my partner, Sharon, friends and family, I'm positive I'll be able to make it to the finish line in a good time.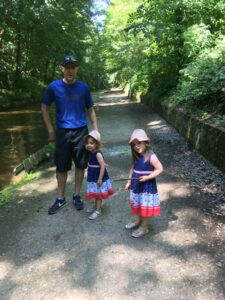 "I'm looking forward to having my beautiful six-year-old twin daughters, Frankie and Bella, join me for the final push over the finish line and hopefully I'll be able to get them both a medal as well", said Daz.
We would like to wish Daz the very best ahead of incredible marathon later this year and if you'd like to support him, you can visit his fundraising page here: www.justgiving.com/fundraising/daz-martin8.
Are you looking to take on a new challenge? Contact a member of our team on cs@leukaemiamyelomaresearchuk.org to find out more information on the different ways you can raise money for a great cause, or visit our website: https://lmruk.org/fundraising/.