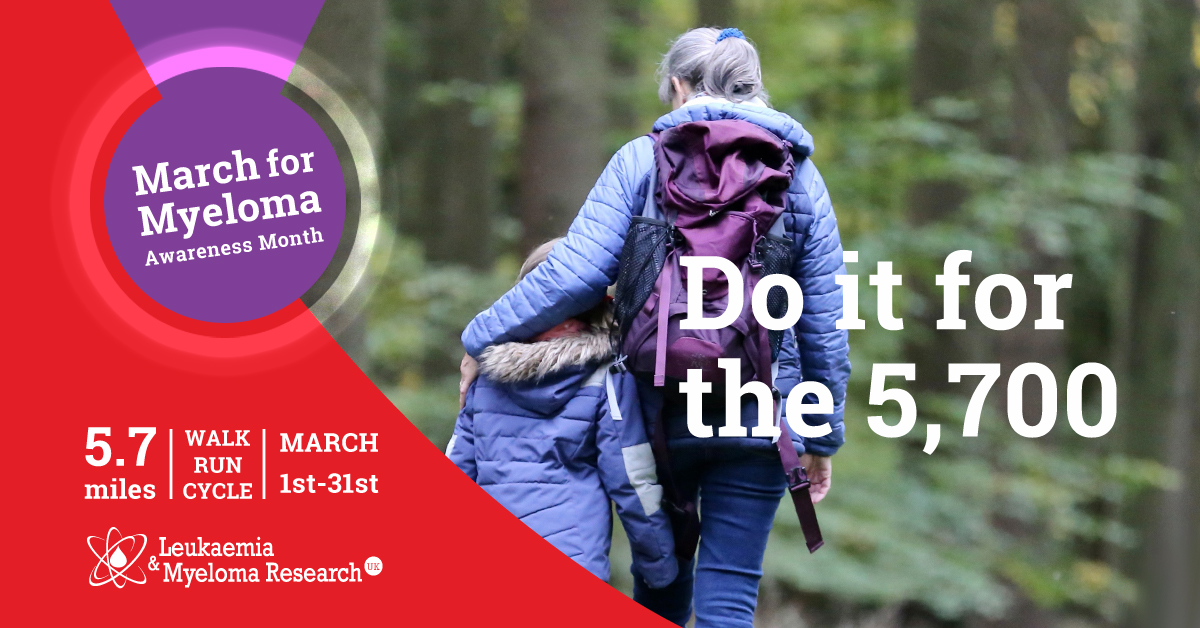 We want to raise awareness of myeloma, one of the three main types of blood cancer, and help you to understand the signs, symptoms and treatments, which is why this March we're hosting a Myeloma Awareness Month.
You can join in the conversation by keeping an eye on our Facebook, Twitter or LinkedIn where we'll be sharing useful facts and information, as well as stories from our fantastic fundraisers, our research grant applicant, and first-hand accounts from myeloma patients on their diagnosis and treatments.
We're also joining forces with West Lancs and Merseyside Myeloma Support Group, a local group close to our Head Office in Liverpool, to engage with people who have been diagnosed with myeloma or know of someone close to them with myeloma who need extra support and guidance.
The group provide a friendly and supportive service for people affected by myeloma and hold informal meetings to discuss the latest news and research findings, share their personal experiences, raise money for charity, and most importantly, provide a valuable support network. Learn more about West Lancs and Merseyside Myeloma Support Group here: https://wlm-myeloma.uk/.
Get involved
Each year, approximately 5,700 people are diagnosed with myeloma in the UK.
This March, we want to challenge you to run, walk or cycle 5.7 miles as many times as you can in your local area, while raising funds to support our vital research into stem cell therapies as a more effective treatment to fight blood cancer.
Whether you raise £5 or £50, all your generous donations will help us to continue raising awareness of the signs and symptoms of myeloma, and invest in important research to protect the next generation.
For more information on how to take part, head over to Run For Charity, click here.
Did you know?
Myeloma affects multiple places in the body such as the spine, skull, pelvis and ribs, which is why it's often referred to as multiple myeloma.

Treatment for myeloma can be very effective at controlling the disease, relieving its symptoms and complications, and prolonging life.

Myeloma develops when DNA is damaged during the development of a plasma cell. This abnormal cell then starts to multiply and spread within the bone marrow.

Treatments for myeloma include targeted therapies and immunotherapy drugs, chemotherapy, steroids and stem cell transplants.
Donate today
If you'd like to support us, you can donate today to help fund research to beat blood cancer once and for all.
Discover all the other ways you can donate and support us: https://lmruk.org/donate/.
Keep an eye on our Facebook, Twitter and LinkedIn this March to learn more! Don't forget you can also sign up to our e-newsletter to read our latest news and updates here: https://lmruk.org/newsletter-communications/.