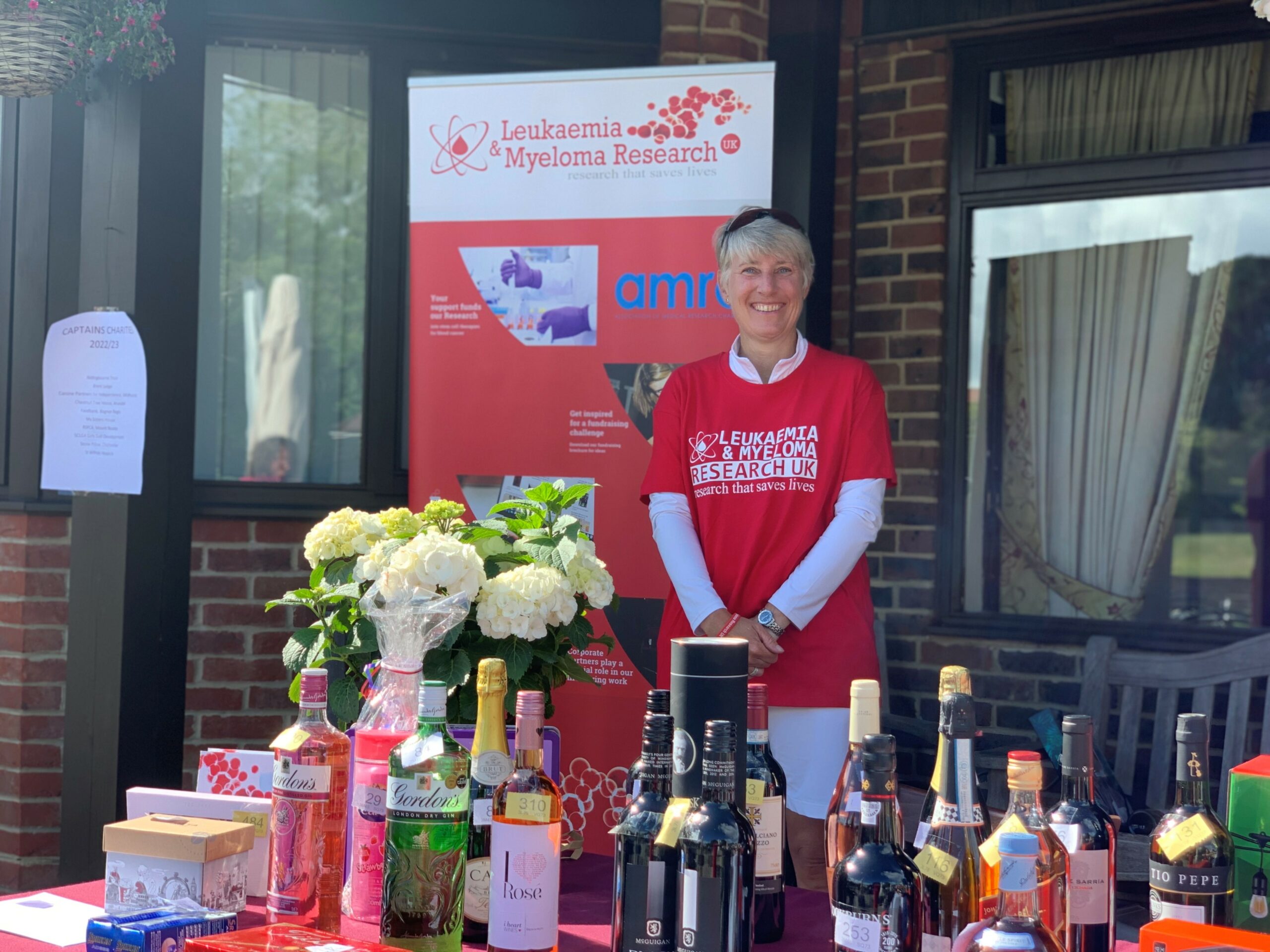 Golf Club Ladies Captain, Heather Tidy is the driving force behind her club's fundraising for blood cancer research charity Leukaemia & Myeloma Research UK (LMRUK).
Heather, who has been a member of Bognor Regis Golf Club for 22 years and took on the captaincy in April 2022, chose LMRUK as her golf club charity in support of her dad, Alan Davis, who has a rare type of multiple myeloma and amyloidosis.
"My dad was diagnosed in 2005 and has been treated by Dr Campbell since then. He receives regular chemotherapy at Colchester Hospital which is close to where he and my mum live in Essex. 
"He is doing well, is supported by my mum, and is still living a good life, although is less mobile due to getting older and the cancer treatment. He'll turn 84 this November, which we're looking forward to celebrating with him!"
Heather, who works in the pharmaceutical industry explained: "Over the years, my dad has taken part in drug trials at Leeds University so that specialists and researchers could learn more about this type of cancer and hopefully one day find a treatment for it."
Upon her appointment as Ladies Captain, Heather had to select a charity to fundraise for. She said, "I knew I wanted to support a blood cancer charity, given my dad's diagnosis and treatment, so I took a lot of time to read up about a variety of different charities.
"I hadn't heard of LMRUK before, but when I came across them and read about the research they fund to find new and more effective treatments for blood cancer, it was a no brainer."
In May 2022, with the help of the Ladies Committee, Heather hosted a Charity Open and invited other golf clubs to participate to help raise essential funds. This involved organising the days' events, lunch for those attending, as well as preparing raffles and prizes.
A club charity event was also held in July with over 100 members playing on the day. On that day the club also ran a 'Beat the Professional' competition where players paid £5 to see if they could beat the score of the professional golfer on a particular hole. "It's a lot of fun and brings players together, all for a good cause!" Heather added.
"The Charity Days have been a huge success and we are thrilled to have raised £1,847 for LMRUK so far!". Heather explained, "In preparation for the Charity Days, we put up the banners that we had kindly been sent by the charity and laid out wristbands, badges and pens too. We also displayed information about the charity for people to read and find out what the money raised will support. 
"I had so many of our members and guests come up to me at the event to say how brilliant it was that I had chosen to support a research charity with a vision to beat blood cancer once and for all." She added, "It was so lovely to receive that feedback as I'm passionate about giving back and helping to find a cure for blood cancer."
Heather's captaincy finishes in April 2023 and she hopes to host more fundraising events in that time to surpass her £2000 fundraising target!
We'd like to take this opportunity to thank Heather and the members at Bognor Regis Golf Club for all their hard work and support and wish them the best of luck with their future fundraising events.
If you've been inspired by Heather's story and want to fundraise for LMRUK, visit our website using this link to find out more: https://lmruk.org/fundraising/