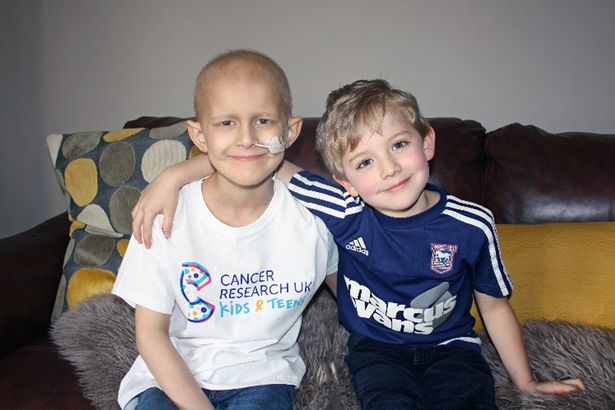 Thomas and Dan have best friends since pre-school so when Dan was diagnosed with cancer Thomas kept his spirits up with 50 messages of support.When one seven year old was diagnosed with stage four cancer his best friend was understandably worried for him.
So in an extraordinary story of childhood friendship schoolboy Dan began writing him notes of support with a drawing and sending them each day.
The uplifting correspondence went on for more than six weeks producing almost 50 touching cards.

Dan was diagnosed in December 2017 with stage 4 Burkitt's lymphoma and leukaemia. What his parents initially thought was a tummy bug, turned out to be cancer.He was in hospital over Christmas, New Year and his birthday.
Thomas wrote Dan cards every day, to keep him occupied and positive whilst he was poorly. It was one of the only things that helped Dan feel less isolated in his world of treatment and hospital visits.
Speaking about the cards, Thomas said: "When I knew Dan was ill I was very sad, and I wanted to make Dan feel happy. I decided to do the cards, I sent them every morning."
The cards varied from drawings, to jokes, to sweet anecdotes.
Laughing together, Dan remarked there were "hundreds" of them.
One touching message read: "Dear Dan, I can't wait until I am allowed to come onto the ward to visit you again. Loads of love, Thomas."
Dan was initially in hospital for six weeks, followed by further spells as an inpatient whilst he underwent intensive chemotherapy, which finished in May.
He's recently had his Hickman Line taken out and is going from strength to strength.
Rachael, Dan's mother commented: "When Thomas found out Dan was ill, the cards started straightaway."Wherever we went the letters found their way to us, no matter where we were. Dan really loved receiving them, he'd wait in anticipation every day for the post to arrive.
"It was so thoughtful and something special for Dan to look forward to during a difficult time.
"The boys have a lovely friendship and it's wonderful to see them spending time together again now Dan is in remission."
Recently the boys, who have been best friends since pre-school and are both big football fans, had a private tour of Wembley Stadium.
This included a visit to the press conference room, players' changing rooms, tunnel, pitch side and Royal Box.Thomas said: "I was so surprised that I was going, it was really exciting!"
Beaming after their day out at Wembley, Dan said: "It's nice to spend time with my best friend Thomas."
To read the full article click here.