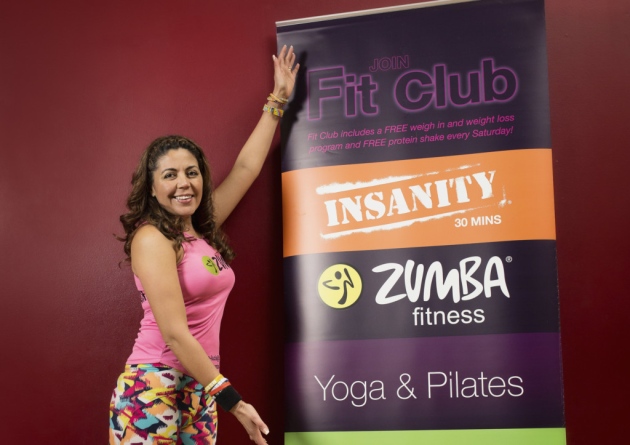 A popular Norwich Zumba teacher who has raised money for various charities is now asking for help herself, as she battles a rare form of leukaemia.
Lucia Alba, from Norwich, is known for her energetic and fun classes.
And the 45-year-old mother-of-two has not let gruelling chemotherapy get her down as she has posted videos on social media showing her dancing while at the Norfolk and Norwich University Hospital (NNUH) for treatment – even getting nurses and fellow patients involved.
Mrs Alba moved from Mexico to Thorpe Marriott in 2002 and has been dancing since she was four years old.
It was through dance that Mrs Alba first began fundraising, when, in 2011, a friend approached her for help in aiding victims of the Tohoku tsunami, which saw her organise a three-hour Zumba marathon.
Since her first zumbathon, Ms Alba has gone on to organise events for several different causes, including the Norfolk and Norwich Association for the Blind, St Francis of Assisi School and the Ella Grace Foundation.
But now, Mrs Alba, who lives with husband Stuart and sons Charlie and Patrick, is raising money to bring her sisters over from Mexico for a bone marrow transplant as part of her treatment.
Already she has been through weeks of chemotherapy, with many stays in hospital, but the bone marrow transplant would be the next step.
A GoFundMe page set up to raise money for Mrs Alba said: "The tests cost a fortune in Mexico, plus travel costs to the hospital (a 6 hour drive)and a hotel stay while the test is completed. Then if a match, they will also need flights to the UK.
"We are now hoping to raise enough money to pay for the tests and bring Lucia's sisters over to England for the transplant."
While in hospital Mrs Alba, who usually teaches up to 20 exercise classes a week, has continued to keep her spirits high.
Videos posted on social media showing her doing Zumba moves, the popular Kiki challenge and the Baby Shark challenge.
Ms Ward said: "She's adamant that she will do exercise, even if it means doing it from her bed. It's been the party bed, she's had lights and decorations up. It's about keeping her spirits up.
"Lucia is always the strong one, the positive one, the energetic one, the happy one, always ready for a party. Now it's our turn to be strong for her and show her how much she is loved."
To read the full article click here.