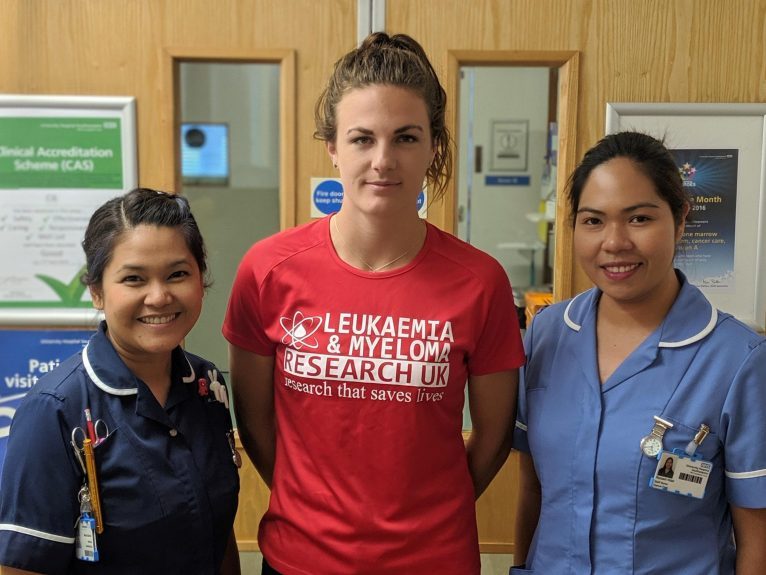 After her mum Sue was diagnosed with Myeloma, 24-year-old Sophie Baker decided to take on an epic challenge to raise money for Leukaemia & Myeloma Research UK. 
Here is Sophie's fundraising story:
"When I found out my mum was diagnosed with myeloma, I wanted to do something to help support the fight against blood cancer.
"I decided to do an endurance challenge to raise money for charity, and walking seemed like the perfect fit as I've always enjoyed it and other people can get involved too. 
"I chose to walk the Jurassic Coast for 24 hours non-stop as it is one of my favourite places to walk with its stunning views and a mix of terrain with hills, roads and fields. When I told my friends and family, I was thrilled to hear that my best friend, Ben, friend, Stephen, and my Dad, Paul wanted to get involved and do the 24-hour walkathon with me!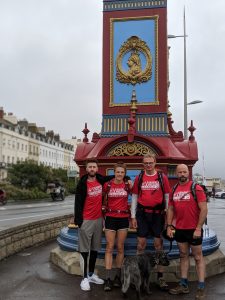 "We set off at 6pm on the 21st July from Weymouth but unfortunately we were greeted with terrible weather. From 8pm, only 2 hours after we started walking, we had 9 hours of rain which didn't stop until 4am! During the nightshift, we had planned to listen to music to keep us going, but due to weather, we had to focus on our route and kept our heads down to protect us from the rain.
"Although it was challenging, the thought of my mum and doing the challenge with an amazing group of people kept us motivated. My step-mum was fantastic – she joined us in a support vehicle and kept us supplied with hot drinks and much-needed snacks throughout the walk. We walked past Durdle Door, Lulworth Cove, Wareham, Pool, Bournemouth and finished in Milford-on-Sea at 6pm the next day after a long 24 hours. 
"It was such an amazing feeling reaching the finishing line and being greeted by our friends and family cheering us on, but the most memorable part was finding out my mum was out of the hospital on the day we finished after having a stem cell transplant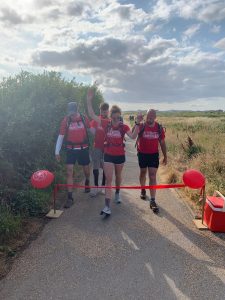 "As part of my mum's treatment, the hospital suggested she had a stem cell transplant using stem cells from a public bank. My mum used to be a nurse so was familiar with the process, and after receiving the treatment in June, she seems to be doing okay. We still have a long way to go, but she is such a strong woman and takes every day in her stride – I'm incredibly proud of her. 
"At an early age, my cousin was also affected by cancer and was diagnosed with leukaemia. However, after receiving the right treatment she has recovered and has grown into a wonderful, successful person!

"I chose to fundraise for Leukaemia & Myeloma Research UK after learning about the charity online, as they focus on both leukaemia and myeloma, cancers which have both affected my family. 
"The charity was so supportive and provided me with plenty of t-shirts, banners, balloons, bands and badges to help with the fundraising.
"We raised over £2,000 for charity and we're incredibly proud of what we've achieved! We hope our fundraising can support Leukaemia & Myeloma Research UK's mission to eradicate blood cancer once and for all". 
A HUGE thank you from everyone at Leukaemia & Myeloma Research UK to Sophie, Ben, Steven and Paul for completing this fantastic walk-a-thon and raising vital funds for our charity. 
If you would like to support Leukaemia & Myeloma Research UK, please contact a member of the team on cs@leukaemiamyelomaresearchuk.org to find out more information on the different ways you can raise money for a great cause, or visit our website: https://lmruk.org/fundraising/.