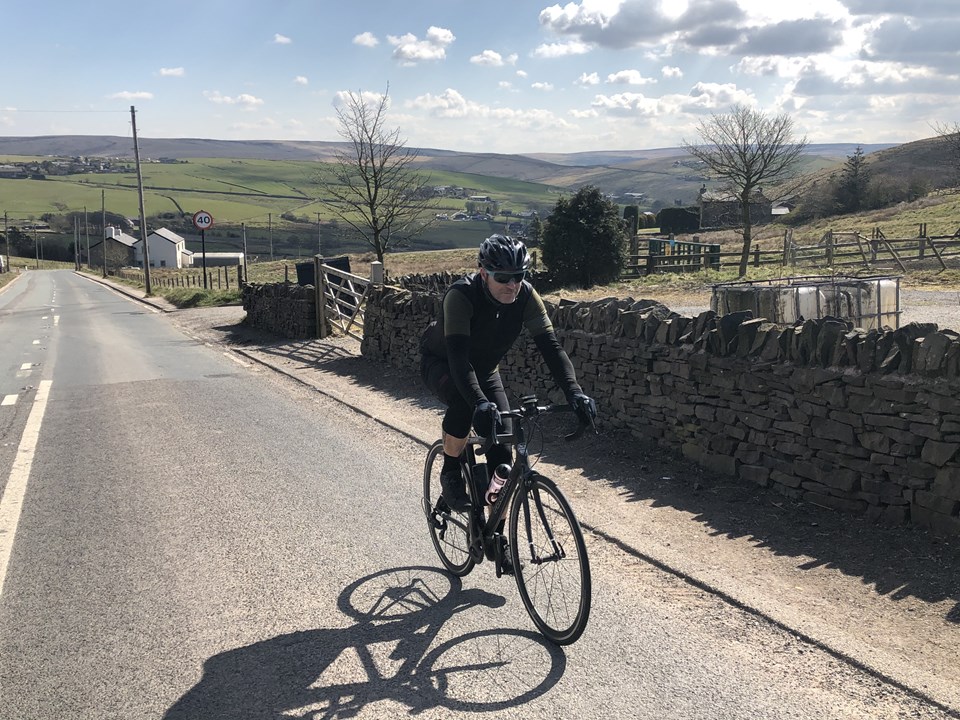 Chris Smith, a 46-year-old Maths Teacher from Manchester, is taking on an epic cycling challenge this summer to raise money for Leukaemia & Myeloma Research UK (LMRUK).
Chris is preparing to cycle almost 1,000 miles starting at Land's End in Cornwall and finishing at John O'Groats in north Scotland, completing the whole length of Great Britain in just two weeks.
Having deferred his challenge from last summer due to Covid-19 restrictions, Chris will be cycling an average of 80 miles each day between 31st July and 13th August across all terrains whilst battling the summer heat.
"I regularly take part in the annual Coast-to-Coast cycle event which is just under 150 miles, but this will be the furthest I've consecutively cycled. It's going to be very challenging, but I'm determined to reach the finish line and raise as much money for LMRUK as I can", said Chris.
In 2018, Chris' mum, Judith, was diagnosed with myeloma. After undergoing different treatments including chemotherapy and a blood transfusion at Leeds Hospital, she is now having trial treatment for stage 3 myeloma.
"My mum has been incredible throughout her diagnosis and the stages of treatment and continues to put on a brave face – we're all very proud of her. Our family has a general awareness of blood cancer after my Grandad was diagnosed with leukaemia, but myeloma wasn't a form of cancer we'd heard of before.
"I've raised money for cancer charities in the past, but it was my mum who came across LMRUK after a consultant at Leeds Hospital recommended fundraising for them. As our family has been affected by both leukaemia and now myeloma, it seemed like the right fit.
"I love cycling and try and go out on my bike as often as I can, if the weather permits, but it was after I heard about a colleague completing the Land's End to John O'Groats challenge that I felt inspired to give it a go myself.
"I've had fantastic support from friends, family and colleagues, although my mum does think I'm a bit daft attempting to cycle this enormous distance, but I can't wait to get started!
"I've never been to Land's End or Scotland so I'm keen to take in as much of the views and scenery as possible. On the way back – I'm pleased to say I won't be cycling – I'll be meeting my wife in Edinburgh for a short stop-over to take in some of the beautiful surroundings – it'll be a very well-deserved holiday.
"At the moment I'm averaging between 150 – 200 miles a week across different routes as part of my training plan, as well as going on regular rides with my local cycling club and friends. On the day, I'll be cycling as part of a group that I'm yet to meet, but I'm sure we'll all be keeping each other motivated along the way.
"My original fundraising target was £1,000 and I'm thrilled to say I've currently raised over £1,800! I've set myself a new goal to reach the £2,000 mark so I'm keeping everything crossed to hit this amount", added Chris.
We'll be sharing updates from Chris as he prepares to cycle from Land's End to John O'Groats this summer, so keep an eye on our Facebook and Twitter pages.
If you'd like to support Chris, you can visit his fundraising page here: https://www.justgiving.com/fundraising/Chris-SmithLEJOG.