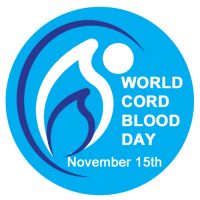 Today is World Cord Blood Day and we're proud to once again be showing our support for this annual awareness day highlighting the many benefits of cord blood banking.
Now in its 5th year, World Cord Blood Day started from the need to expand cord blood education globally and has continued to grow each year attracting expectant parents, doctors and healthcare professionals from across the globe to learn about the benefits and uses of cord blood.
Cord blood stem cells are currently being used to treat over 80 life-threatening diseases, including blood cancers such as leukaemia and lymphoma.
To mark World Cord Blood, we've collated 80 statistics and facts about cord blood and cord blood banking, as well as quotes from people who have banked their child's umbilical cord blood stem cells for future use. Take a look here.
To register for World Cord Blood Day's virtual conference, visit worldcordbloodday.org, where you can find more information about cord blood as well as interactive games and quizzes to further your knowledge.
You can listen to our Charity Ambassador, four-time Winter Olympian Zoe Gillings-Brier share her reasons for storing both of her children's umbilical cord blood stem cells here
We're passionate about making cord blood banking a service accessible to all families, which is why we launched the Model Cell Biobank in 2015 to provide expectant parents with the opportunity to bank their baby's umbilical cord blood stem cells for future use. Qualifying families can benefit from our part-funded and fully-funded offering.
For more information on our Model Cell Biobank click here. https://lmruk.org/model-cell-biobank-service/.
To keep updated on the latest news from World Cord Blood Day, follow #WCBD and #WorldCordBloodDay on social media