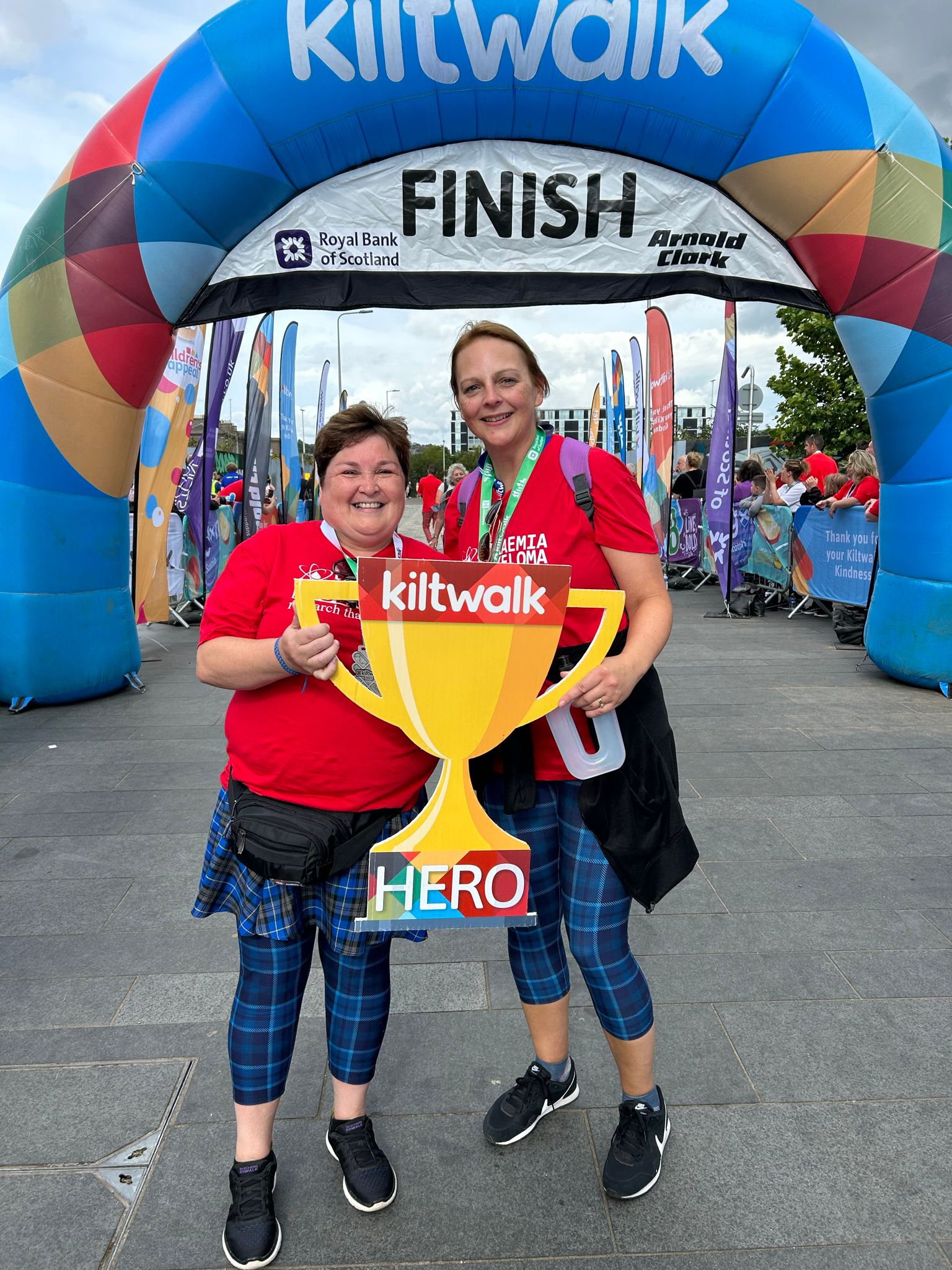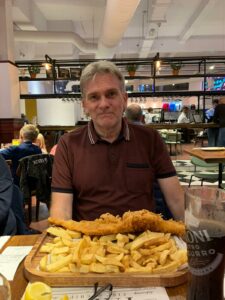 To mark a year since her husband Alan's passing, Wendy Forrest from Broughty Ferry in Dundee and five of her closest friends, took on the Mighty Stride Kiltwalk to raise money for Leukaemia & Myeloma Research UK (LMRUK).
"The Kiltwalk is always a big event in Dundee's calendar, so when my friends told me they registered for this year's walk in memory of Alan, I knew I had to join them", said Wendy.
Wendy, who works as a Civil Servant, was joined by Suzy, Morag, Lynne, Jade and Sarah on 20th August to complete the 20-mile walk to raise awareness of blood cancer in memory of Alan.
In March 2022, Alan started experiencing a loss of appetite and bruising – common blood cancer symptoms – but put them down to the after effects of Covid-19 and a fall down the stairs.
He started experiencing severe neck pain so went to see a physiotherapist who recommended he visit his doctor in case his symptoms were aligned to something more serious. Initially, the doctors thought it could be the start of Motor Neurone Disease, but after doing blood tests, Alan was diagnosed with Acute Myeloid Leukaemia (AML).
"It was a huge shock to the whole family, but we didn't have time to process it properly as Alan started an intense round of chemotherapy straight away in hospital", explained Wendy.
Alan took chemotherapy tablets to kill the cells in his bone marrow, with the hope that new cells would grow back cancer-free. This was followed by intensive chemotherapy twice a day, but his condition worsened and after experiencing trouble breathing, he was moved into the Intensive Care Unit (ICU).
"Within a week of Alan being in the ICU, his heart stopped. It was terrifying. The team were able to resuscitate him and put him on a ventilator which helped control his breathing.
"We were later told the devastating news that the first round of chemotherapy hadn't worked, and Alan's dose would now be increased, and he'd be receiving a weekly blood transfusion", added Wendy.
After four weeks in hospital, Alan was discharged and able to go home, in time to see his daughter, Melissa who was 16 at the time, start her first part-time job.
In early August, Alan, Wendy and Melissa took a trip to Aviemore to stay in a holiday lodge. Alan began feeling weak and unwell, but was able to travel back to Dundee for his weekly blood transfusion, before returning to their accommodation to rest.
While the family were still on holiday, Alan sadly passed away on Friday 5th August, aged 58.
Wendy said: "It was an incredibly difficult time for us – Alan had asked for a 'do not resuscitate order' to be put in place, so we couldn't phone an ambulance. Instead, we waited for the doctors to arrive and a mortician to come and take his body from the lodge to a mortuary.
"My daughter and I were both fortunate to have a close and supportive network around us, even if it was sitting with us and sharing a cup of tea, they have made a huge difference and we are so grateful."
She added, "Alan hated having his photo taken, but our house is now filled with photos of him, and we talk about him all the time – we're thankful to have had those extra few months with him to make precious memories."
For their fundraising challenge, Wendy and her friends donned special outfits in Alan's memory, "he was an avid Dundee Football Club supporter, whose club colours are red and blue, so we wore bright red LMRUK t-shirts and blue tartan leggings. We know this would have put a smile on his face!"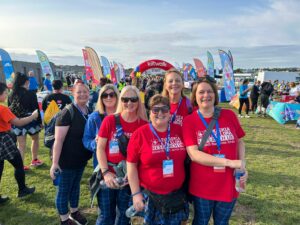 Wendy and her friends completed the Kiltwalk in 7 hours covering tough terrain across rocks, sand, stone and grass. "At 5ft 1, I'm the shortest member of our group, so I had the biggest step count of over 53,000! This was my first fundraising challenge, and what a way to start.
"We had fantastic support from the crowds with clapping, cheering, bubble machines, music and good luck messages written in chalk on the roads and posters – it was an amazing atmosphere.
"A particular highlight was when we reached the halfway point at Tentsmuir Forest Reserve and we could see right across the water to our hometown of Broughty Ferry – it was very special to see.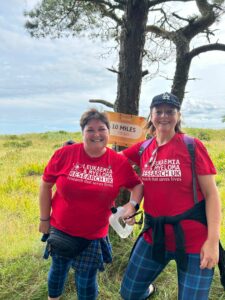 "We raised an incredible £2,500 for LMRUK! We're so proud of ourselves and we hope that the money raised will help to make a difference in the fight against blood cancer."
Dr Joanna Tilley, Operations Director at LMRUK added: "We're very grateful to Wendy and her friends – Suzy, Morag, Lynne, Jade and Sarah – for all raising such a phenomenal amount of money for our charity. This will help us to fund vital research into more effective treatments for blood cancer using stem cell therapies.
"So many people mistake the early signs and symptoms with something else, so we're encouraging people to educate themselves and others on what to look out for, and if something isn't right, go to your doctor to get checked out."
Download our informative blood cancer poster click here.
To discover all the ways you can fundraise for our charity, click here.