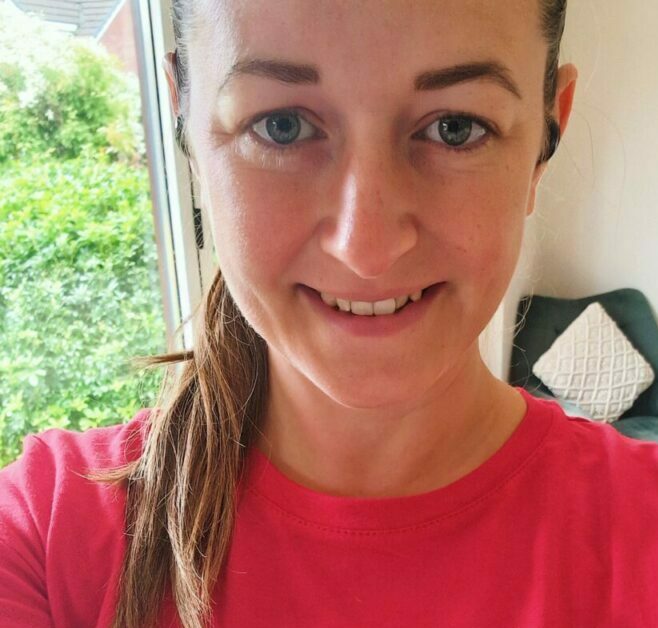 Ashleigh Harris, 33, from Blackwood in South Wales, is preparing to run the Cardiff Half Marathon in October in memory of her close friend and former colleague, Rachel Stickler, who passed away from Acute Myeloid Leukaemia (AML) in July 2022.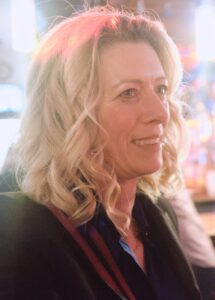 Inspired by Rachel's passion for fitness and running, Ashleigh joined her local running group – Islwyn Running Club – and has set herself a goal of completing the 13.1-mile race to raise money for LMRUK.
"Rachel was a strong woman who was very fit and healthy and always on the lookout for her next adventure – she was really inspiring. It's been a year since we sadly lost Rachel, so I was determined to step out of my comfort zone and take on a fundraising challenge in her memory by doing something she loved", said Ashleigh.
After experiencing pain in her pelvis and hips, Rachel had initial blood tests which did not raise any alarms. It wasn't until a routine dentist appointment that concerns were raised about her condition and she was advised to go back to her doctor.
Subsequent blood tests revealed she had AML and Rachel began chemotherapy in February 2022.
Four months later, Rachel had a stem cell transplant but became very weak after the procedure and tragically passed away in intensive care on 16th July 2022, aged 51.
"I first met Rachel at Cardiff and Vale Council when I started my job in the housing department. We worked closely together for over eight years and she quickly became more than a colleague, we were really good friends.
"Everybody loved Rachel, and the whole department misses her dearly. She'd worked with people in the team for over 10 years, so many of us want to keep the memory of her alive and help her family to raise awareness of AML symptoms to improve earlier diagnosis", explained Ashleigh.
Ashleigh first heard about LMRUK after Rachel's parents, David and Helen, asked for donations to the charity at Rachel's funeral. She decided she wanted to continue the support for LMRUK and help with funding research into more effective blood cancer treatments.
With no previous running experience, Ashleigh is now completing two six-mile runs a week, spurred on by members of her running group. She said: "Running as part of a group is brilliant for motivation. I'm improving each week, so by October I'll be ready to take on the Half Marathon, which I'm aiming to complete in under four hours.
"My family are coming to support me on the day, so I'll be keeping a close eye out for my partner Lee and son Osian who'll be cheering me on."
The Cardiff Half Marathon is celebrating its 20th anniversary this year and the route will take runners past the city's iconic landmarks, starting outside Cardiff Castle and finishing in the heart of the city at the Civic Centre.
Ashleigh set up her fundraising page on 1st September with a fundraising target of £300, which she exceeded within the first week, "Everyone has been incredibly generous so far and I'm on a mission to raise as much as I can to help fund potentially lifesaving blood cancer research into more effective treatments."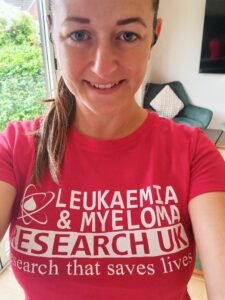 If you'd like to support Ashleigh, visit her fundraising page here: www.justgiving.com/page/ashleigh-harris-1693668377707.
Dr Joanna Tilley, Operations Director at LMRUK added: "Rachel's proud parents, David and Helen, have been very supportive of our charity. They donated funds raised from Rachel's funeral and also Rachel's designer clothes to be sold on our online clothing shop.
"To now receive further support from Rachel's friends is a testament to what a special and remarkable woman she was.
"A big thank you to Ashleigh for stepping out of her comfort zone and taking on the Cardiff Half Marathon to raise money for our charity – we wish her all the very best and we can't wait to hear how she gets on!"
Learn about the common symptoms of blood cancer and the treatments available by downloading the informative poster here and help to educate others by sharing it with your friends, family, colleagues and local community groups.