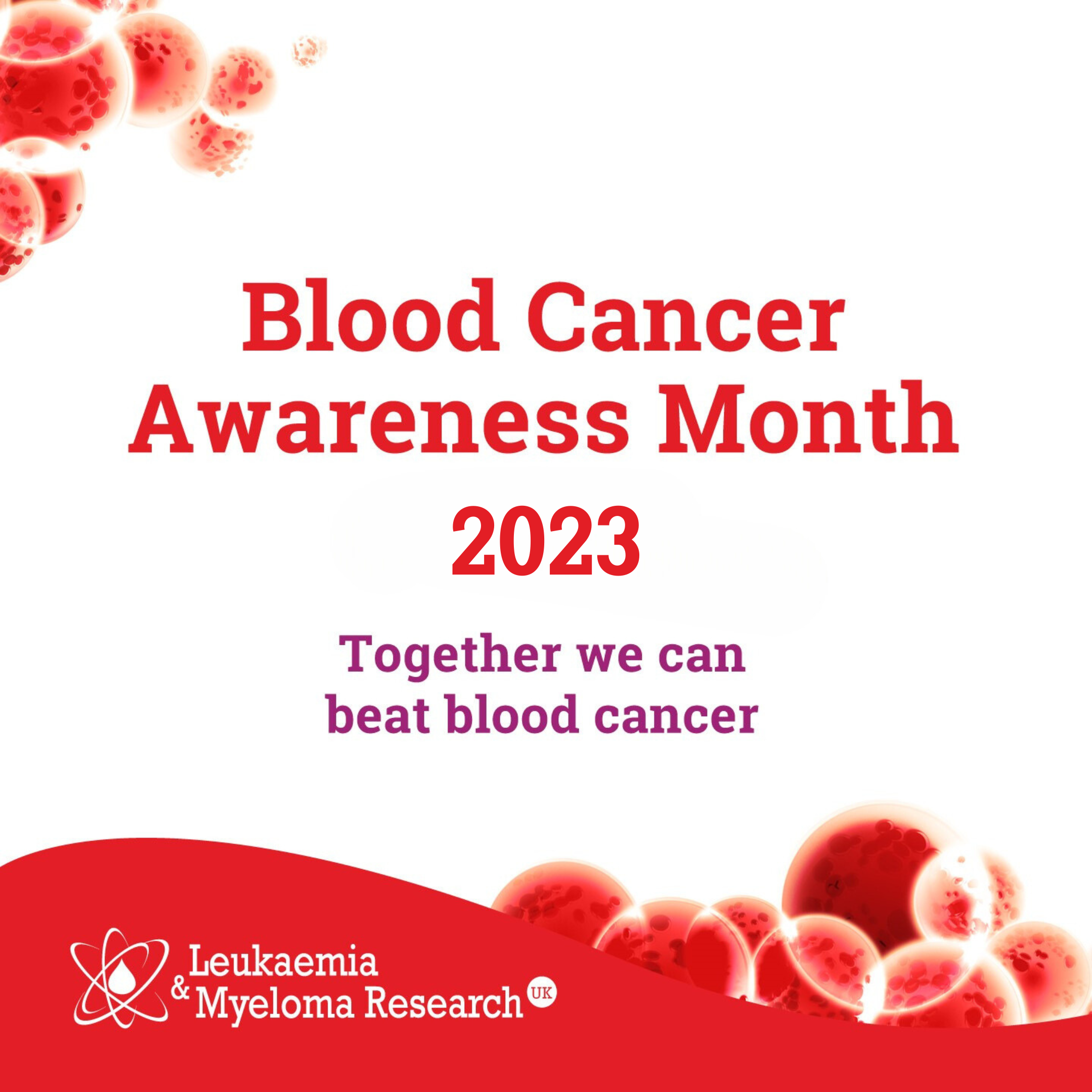 September is host to an array of important blood cancer awareness days and global campaigns aimed at educating people on the signs and symptoms of the UK's 5th most common cancer.
The biggest campaign is Blood Cancer Awareness Month and throughout September, charities across the country band together to shine a light on the three main types of cancer of the blood; Leukaemia, Myeloma and Lymphoma, which more than 240,000 people in the UK are living with.
But for our charity, this work goes on every day, 12 months a year. We are committed to educating people on the symptoms to lookout for in themselves and loved ones, so that the number of people diagnosed with the disease – currently over 40,000 a year – are diagnosed and begin treatment sooner.
Know the signs and symptoms
A UK survey conducted by Leukaemia Care and Leukaemia UK found that almost a third of the people asked were not able to recognise any of the four most widely reported symptoms of the disease.
Although they can vary according to the type of cancer, the most common symptoms include:
Fatigue
Fevers and sweats
Easy bruising or bleeding
Bone pain
Frequent infections
Weight loss and loss of appetite
Swollen lymph glands in the neck, armpit or groin
Itchy skin
Due to the nature of the symptoms, they are often mistaken for other ailments.
In August last year, Wendy Forrest lost her husband, Alan to Acute Myeloid Leukaemia (AML). She said: "Alan started experiencing a loss of appetite and bruising – common blood cancer symptoms – but put them down to the after effects of Covid-19 and a fall down the stairs. "When Alan's symptoms worsened, he went to see a doctor who conducted blood tests and later diagnosed him with AML."
Wendy has been fundraising for LMRUK and helping to raise awareness of this form of cancer to help others spot the signs early. To read Wendy's story, click here. https://lmruk.org/2023/08/31/the-dundee-kiltwalk-a-walk-to-remember/.
Blood cancer treatments
The types of treatments vary depending on the type of cancer diagnosed. The most common treatments include:
Chemotherapy
Immunotherapy
Radiation therapy
Targeted molecular therapy
Stem Cell transplants
To learn more about each of these treatments, download our informative poster here: https://lmruk.org/wp-content/uploads/2023/05/Blood-Cancer-Awareness-2023-A4.pdf.
We invest in specialist stem cell therapy research in the hope of finding a more effective treatment for blood cancer through stem cell transplants. We also offer a cord blood banking service called the Model Cell Biobank, which enables qualifying families to bank their newborn baby's umbilical cord blood stem cells through the full and part-funded offering, and store them for future use, should they be needed.
Four-time Winter Olympian and Team GB Olympic snowboard cross athlete, Zoe Gillings-Brier, is an Ambassador for LMRUK and has banked both of her children's umbilical cord blood stem cells.
Zoe explained: "When we were expecting our first child, we heard about umbilical cord blood stem cell banking and its many benefits, including being used as a treatment for blood cancer. We looked into it further and have since successfully banked and stored both of our children's cord blood stem cells.
"I'm proud to be working with LMRUK and highlighting the work the charity is doing to support families to bank their baby's umbilical cord blood stem cells for future use, to help protect the next generation."
Stem cell transplants can currently be used to treat over 80 life-threatening illnesses and diseases, including blood cancer. To find out more about our cord blood stem cell banking service, click here: https://lmruk.org/model-cell-biobank-service/.
Educate yourself and others
Dr Joanna Tilley, Operations Director added: "So many people mistake the early signs and symptoms of blood cancer with something else. At LMRUK, we're on a mission to encourage people to educate themselves and others on what to look out for, and if something isn't right, go to your doctor to get checked out."
To learn more about blood cancer, download our informative poster here: https://lmruk.org/wp-content/uploads/2023/05/Blood-Cancer-Awareness-2023-A4.pdf
Share it with friends and family, place it in your work communal areas, and add it to your local community groups and centres. Help others spot the symptoms early and understand the available treatments so that together we can beat blood cancer.