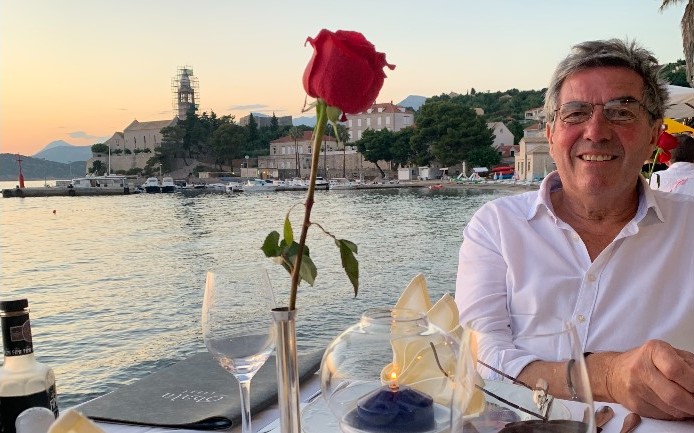 Eleven walkers are taking on the Yorkshire Three Peaks challenge to support blood cancer research in memory of Graham Margot from Hertfordshire, who passed away in August 2022.
The group, made up of Graham's wife, children, grandchildren and close family friends, are busy preparing for the endurance challenge on Saturday 7th October, whilst raising money for Leukaemia & Myeloma Research UK (LMRUK).
Graham's daughter, Emily said: "The whole family wanted to do something to mark a year since dad's passing, and after discussing different ways we could fundraise, we all decided on the Yorkshire Three Peaks challenge.
"In total, a group of 11 of us – made up of family and close friends – will be climbing the three peaks in different capacities to raise as much as we can for LMRUK to help fund vital research into more effective treatments."
After experiencing severe stomach pains, and after much persuasion from his family, Graham went to his doctor and he was diagnosed with diverticulitis, a condition that affects the large intestine.
Further tests found that Graham had a high level of abnormal white blood cells, which prevented his bone marrow from producing new, healthy blood cells to help fight infections.
Graham was diagnosed with Chronic Myelomonocytic Leukaemia (CMML), which meant that his body struggled to fight off the infection caused by diverticulitis. He was admitted to the hospital in June 2022, where due to the infection, his bowel perforated and he developed sepsis, a life-threatening reaction. Graham sadly passed away in August 2022 surrounded by his family.
The Margot's have set themselves the ambitious target of climbing all three peaks in 12 hours, starting at 7am and finishing the 24.5-mile trek at 7pm the same day.
Under the supervision of a professional guide, the round-trip route will start with Pen-y-Ghent Peak, followed by Whernside Peak and finishing with Ingleborough Peak, with a total ascent of 5,200ft. The hills form part of the Pennine Range and encircle the head of the valley of the River Ribble in the Yorkshire Dales National Park.
"My mum, Anna, and I previously completed the National Three Peaks Challenge, so this is a fantastic opportunity to explore more spectacular peaks, all for a good cause.
"We've had an overwhelmingly positive response from family and friends who all want to take part.
"Due to being pregnant, I'll be unable to take part in the challenge, but I'll be joined by the wives and fiancées of some of the walkers, with our very excited children, at the halfway point – Ribblehead Viaduct – where the group will be stopping for lunch. We'll be making sure they're well fed before spurring them on for the final leg of the challenge, where my sister, Sarah, will be joining them", added Emily.
Completing the full challenge will be Anna, Graham's wife, and Emily's brother, Oli, brother-in-law, Sam, and husband, Alex, as well as close family friends; Charles, Jonny, Jamie, Julio, Emily, Robbo and Sharon.
Graham's family now encourage people to get checked early if something doesn't seem right.
"My dad never wanted to make a fuss, so ignored the warnings until his symptoms worsened. It was a very challenging time, with all of us taking turns to be by his side in the hospital. Sadly, he never recovered after his bowel perforated in combination with the blood cancer, but we continue to talk about him all the time, so our children know what an incredible man their grandfather was.
"After setting our fundraising target at £3,000, we can't quite believe that we've now raised over £10,000 for LMRUK – it's incredible!
"My dad would have hated all the fuss we're doing in his memory, but we know he's going to be looking down on us all feeling very proud", said Emily.
To donate to the Margot's Yorkshire Three Peaks challenge, visit their fundraising page here: www.justgiving.com/page/emily-margot-1693393054306.
Discover all the ways you can fundraise for our charity here: https://lmruk.org/fundraising/.
Update – A huge congratulations to everyone, they completed the challenge and have so far raised over £14,000. Well done!